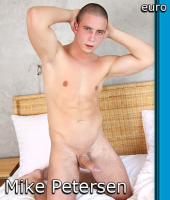 22 year old Mike Peterson
comes to us from the city of Prague. He works for the local Sanitation Department as a garbage man and in his spare time loves tricking out cars. Mike is very horny and decides now is as good a time as any to rub one out! He removes his shirt and begins rubbing his crotch and his body. He removes his blue jeans, leaving him standing in his boxer briefs. Mike takes off his briefs and lays back on the bed, taking hold of his uncut cock and giving it some good stroking action, while rubbing his body all over. Mike gets up on his knees, gripping his cock firmly, pulling his foreskin way back with each stroke. Still on his knees, he turns toward the headboard, stroking with one hand, while massaging and spanking his ass with the other. Mike stands up, back against the wall and closes in on his happy ending. He sits back on the bed and with a few fast and furious strokes; he delivers a thick and creamy cumshot!
More...
Loading the player ...